Professional Plumber in London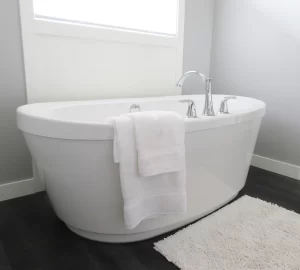 Residential plumbing fixtures are particularly prone to problems, but plumbers have the equipment and tools necessary to repair these fixtures with ease.
At some point, every homeowner will need to have their bathroom and kitchen faucets repaired or replaced. Their constant use causes these fixtures to wear out. Leaks from these appliances can quickly become costly emergencies if someone does not repair them professionally. Or diagnosed early while the problem is still small. The technicians we dispatch take the time to carefully locate and pinpoint the problem to accurately fix it. They prevent it from escalating into a large-scale, costly accident.
Appliances for kitchen and bathroom
In addition to large, comprehensive appliances, we are also experts at repairing and installing simple fixtures. If you need a new sink for the kitchen, a new faucet for the bathroom, or a new and modern showerhead, our plumbers will make the job done.
Garbage disposal installation – replacement
When your garbage disposal stops working properly, food waste can cause unpleasant odors and water can back up in the drain. We know that the garbage disposal is an important part of the kitchen in many households, and getting it back in working order as soon as possible is a top priority. Let our professionals repair or replace your garbage disposal without breaking up the floor or tearing down the walls of your home, and get your kitchen back up and running. Our plumbers are licensed, bonded and insured and will treat your home as if it were their own. Within a day, your garbage disposal will be repaired, regardless of what the original problem was.
Toilet repair and replacement
As toilets are used frequently in both homes and commercial establishments, it is important that they are well maintained. If your toilet is clogged or backing up, our efficient, reliable technicians can repair or replace it with our snake tools and equipment. Technicians will spare your bathroom by carefully inserting our snake tools into toilet pipes to clear clogs and other obstructions. Regardless of the brand or quality of the toilet, we perform effective repairs that improve the quality of waste disposal and promote an efficient plumbing system.
Backflow testing
Backflow testing is an important tool in preventing waste and chemicals from entering the water supply. It keeps plumbing systems clean and sanitary. The unwanted backflow of water from sewer lines into your plumbing can pose a serious risk to health and human safety.
Call the Emergency Plumber in London and our professional team will fix every plumbing issue. The plumbers have years of experience in the sector and they can take care o your plumbing system. Furthermore, we are 24 hours available. After your call, our Customer Service will send in a short time the right plumber to you, so never hesitate to contact us. Call us, 02038079306.